It is not easy to put all the information in a single document and impress the hiring manager at the same time. And experience is the most important section of your resume that requires special attention. A perfect balance of a number of years with defined roles in each position held in the past makes a perfect experience for a resume. But not everyone can excel at this art of writing.
We have collected appropriate information on how to showcase experience the right way in your resume. Keep reading to find out what you've been missing all these years.
To start off, we know the first question that needs to be answered while proceeding with the resume is, how many years of experience do you have. Be it a fresher, a mid-level professional, or senior executive, calculate the number of years first. Then prioritize the work experience you wish to highlight and align with the job role you're applying for. Senior executives with over 10 years of experience, should avoid mentioning all the positions with outdated skill sets.
Now comes the part of actually putting information in the experience section to give the recruiter a glimpse of your past achievements. A smart and concise way to showcase all the accomplishments and key success factors from those roles.
Experience #1: Fresher
As an entry-level employee, you might not have professional on-the-job training. But to compensate for that you can include your relevant work experience by highlighting your qualifications or any internships that you may have accomplished. Add this section just under your headline or career objective.
Use this section to highlight your skills and dedication to your career development in that particular industry. Below are some examples to highlight achievements that can relate to the position you are aiming for:
Internships: Work internships or unpaid internships you may have completed as part of your career training, education program, or certification course.

Educational qualifications: A major skill or career development accomplishment.

Projects/ volunteers: Any other related achievements during your undergraduate studies.
Experience #2: Mid-to-senior level professionals
If you're advancing in your career for a while now and looking for bigger opportunities, you may need to organize your contributions and successes. Headline followed by a career summary, and then you can add your experience section. One can also omit or move the qualification sections to the second page of the resume (in case you think an educational degree is important for that role).
Follow these examples of achievements and skills that can serve as a starting point for you when listing years of experience on your CV:
Achievements in numbers: Adding qualitative results from the projects you have handled in the past can elevate your chances of showing you as a worthy candidate. For example, you might list how you improved employee productivity by 35% by implementing new processes, empowering them with new tools, or by building a new culture of trust.


Leadership quality: Corporates love people who can take up leadership and responsibility. Add achievements like

directing the marketing team in developing and launching new or redesigned campaigns that were successful in acquiring hot leads, new clients, or setting business appointments to potential customers.


Promotions and awards: Include the relevant promotions or advancements that you've been awarded at the department level or industry level. For instance, if you were promoted from a junior marketing position to a Manager position, list it with your experience, as it would allow hiring managers to see how your contributions are valued enough to warrant recognition.
Also read: What is an infographic resume? How to create one.
Format to showcase years of experience
Don't ever go overboard when writing your work experience section. Keep it short, keep it interesting. Although always aim to include the best and most relevant details, you should strive to write in simple and meaningful sentences.
Here is the basic format one can follow to write their experience section:
Position, Start Date – End Date
Company Name, Location
• Descriptive Sentence 1
• Descriptive Sentence 2
• Descriptive Sentence 3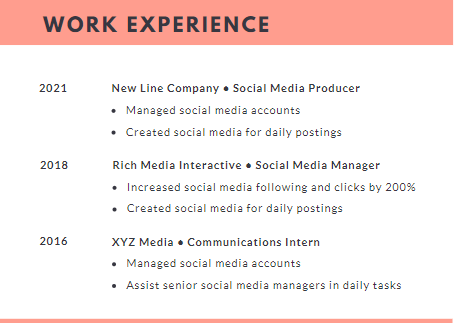 Always use bullet points
Long paragraphs can make a resume look cluttered. Using bullet points can make it interesting to read.
Be as specific as possible
While mentioning your work experience in the descriptions, try to be as specific as possible rather than providing vague descriptions of your job role in the previous companies.
Closing Thoughts
Your work experience can make or break your opportunity for landing that dream job of yours. Figuring out the best and most concise way to list your experience is, thus, extremely important. After writing the resume only one last important step that needs to be taken is resume assessment. Upload your resume with InspiredResume.com and get detailed feedback from the experts of your industry- for free.
To learn more about how to craft the best resume possible in different industries, check out our comprehensive guides to get started making your perfect resume.