With the ever-evolving landscape of the recruitment industry, resume trends have changed significantly. Most of these changes have been observed over the last couple of years after the onset of remote working due to the COVID-19 pandemic.
The shift towards working from home has convinced people to look for better-paying job opportunities. But still many of us are left wondering how to actually get shortlisted for that dream job?
The short answer to this is - Write a better and updated resume.
A lot of companies still believe that by just looking at the resume they can figure out if the candidate is the right fit for them or not. But as the job market evolves so do the requirements for writing a successful resume.
Let us find out the current resume trends in 2022 you need to know in order to write an updated resume.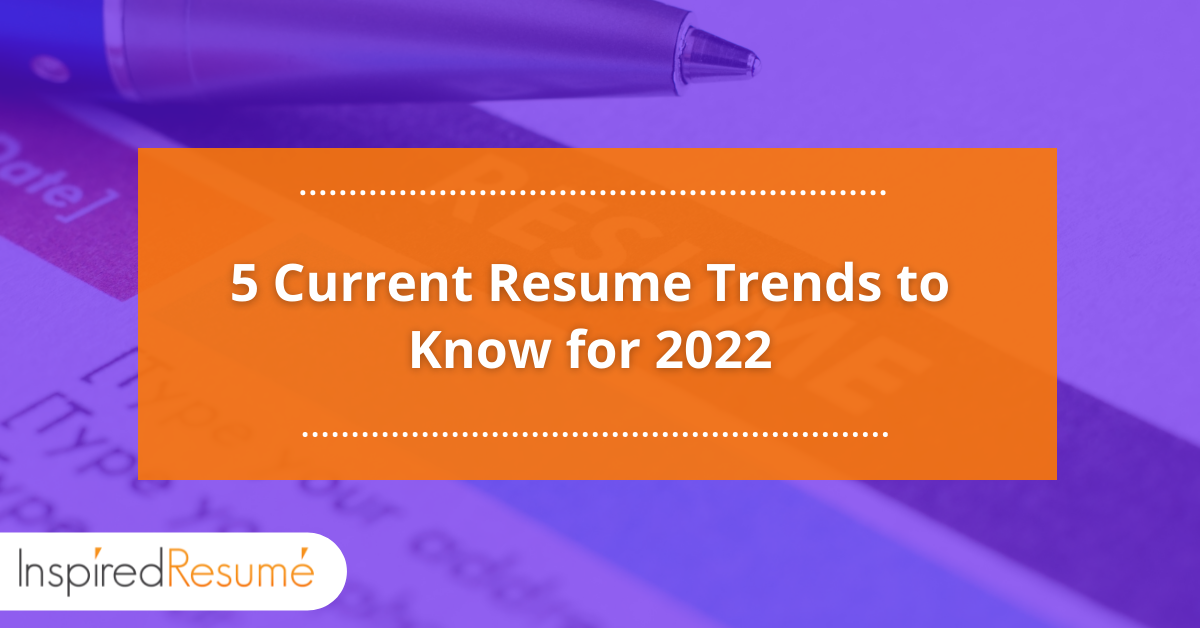 5 Resume trends for 2022
You might find a lot of articles online providing a list of resume trends that you might think are useful. But that is not the case every time.
Some trends might be silly, while others are incredibly valuable.
To ease out your task we have gathered a list of 5 resume trends that you should know in 2022 to find a job you want in less time.
1. Personalise your resume
The key to getting shortlisted and securing a job in 2022 is personalizing your resume according to the job role. You should look to tailor your resume according to the job role and perform independent company resources before writing it.
Do not forget to focus on soft skills as well because a lot of people put a lot of emphasis on hard skills and neglect the importance of soft skills.
In order to personalize your resume, you should first make a list of experience and skills which are best suited for the role. Then, you need to craft your resume accordingly putting into the limelight these skills on your resume.
Also, make sure that you use the exact language which the employer has used in the job description.
2. Targeted resumes for specific jobs are more likely to succeed
The next resume trend for 2022, is writing targeted resumes for specific jobs. With a widening skill gap, a lot of employers have started to report increasing difficulty in finding ideal candidates. This makes it all the more important to write targeted resumes.
Making a generic resume and sending it out to all the employers will not work today. The employees are smart enough now to figure out if you are the right fit for them by just having a look at your resume.
Instead, look to incorporate keywords into your resume which are mentioned in the job description.
Use each section of your resume to include targeted keywords. Some of the sections where you can look to add them are:
Introduction

Educations section

Work experience

Skills section
The more closely you match your resume to the company's job profile, the higher will be your chances of getting shortlisted.
3. Learn to articulate your skills
Soft skills play a major role in letting the recruiters know that the candidate will be the right fit for the organizational culture. So, this is yet another resume trend to watch out for in 2022.
According to a study conducted by SHRM, it was found that lack of soft skills is the leading cause of recruitment difficulty. The study showed that nearly 2/5th of recruiting managers reported a lack of competencies and soft skills for the job role.
By taking the time to study the job description and then carefully figure out if you have the necessary soft skills, you can carefully add those skills to your resume and keep up with the recruiter's expectations.
4. Growth of automated application process
Automation has influenced the recruitment industry as well. With digitization coming into play, the recruitment process is a lot more different. According to a survey carried out by LinkedIn, it was reported that automation is the biggest trend in the recruiting industry.
Companies now are using Automated Tracking Software(ATS) to filter out resumes and make the shortlisting process a bit easier. Candidates should now look to write ATS-friendly resumes and deliver them in easy-to-scan formats such as .pdf or .docx.
These systems are used to filter out eligible candidates before their applications are forwarded to hiring managers.
5. Online presence can boost your job hunt
With the evolving nature of the workspace, a lot of people have started working online. Consequently, the online presence of candidates in many cases influences the job hunt.
According to a survey, it was found that employers find viewing online profiles the third most effective resource for finding eligible new hires.
So, representing yourself professionally on social media platforms, especially Linkedin, can help you in attracting recruiters and find a potentially good company to work with.
While LinkedIn is the most popular platform, other social media platforms such as Facebook, Twitter, and Instagram can also assist you in building your own personal brand and have recruiters find you instead of you going to them.
Conclusion
These were some of the resume trends for 2022 which you should be aware of.
Now building a resume according to the current trends won't guarantee you a job. You still need to work on your interpersonal skills to get hired. These tips will only help you in getting shortlisted for the next rounds of the interview.
The next step after writing a resume is to validate it. The only thing that can give you confidence about the content is the assessment. Don't shy away from taking help from your seniors, colleagues, or other professionals from your industry. Or you can simply upload your resume on InspiredResume.com and get a detailed assessment of your resume in a personalized mail and that too at absolutely FREE. Isn't it exciting?