A cover letter is an additional step in the job application process which is followed by resume submission. It may not be a mandatory step, but it does help in increasing the chances of getting noticed. Look at this opportunity as introducing yourself to the hiring manager, with previous experience and achievements, and why you'll make the best candidate for the role.
After thorough research and speaking with talent acquisition professionals, we have collected some tips and tricks to write a good cover letter. Just give 5 minutes to these tips and you'll become a master at writing cover letters.
So let's begin.
Start researching the company
Yes, you have read the job description and you know that you're the perfect candidate for the role. But how would you actually prove it? Well, start off by researching the company first. They might have added the company's website in the job description, and analyze it. This step of the research will help you customize the cover letter as the generic ones never work.
If the company is a creative agency, you can be creative with your story in the cover letter. But if you are looking for a job in a conservative organization, you may want to keep it formal.
One smart move that no one tells you about is following the hiring manager on LinkedIn. You can message or send them an email, asking relevant questions about the job role. And this can set a tone for your cover letter by adding a reference to that conversation. I know this step is not 100% successful, but it's worth giving it a try. Isn't it?
Match your cover letter with the resume
A resume plays a vital role in the job application process. And there's no debating the fact that the information you put on your resume has to match the cover letter. It is always advisable to keep your resume up to date and customized according to the job description. In fact, adding a little surprise element would be a great choice too. Anyway, you're going to talk about your skills and achievements, but what makes you unique is worth mentioning.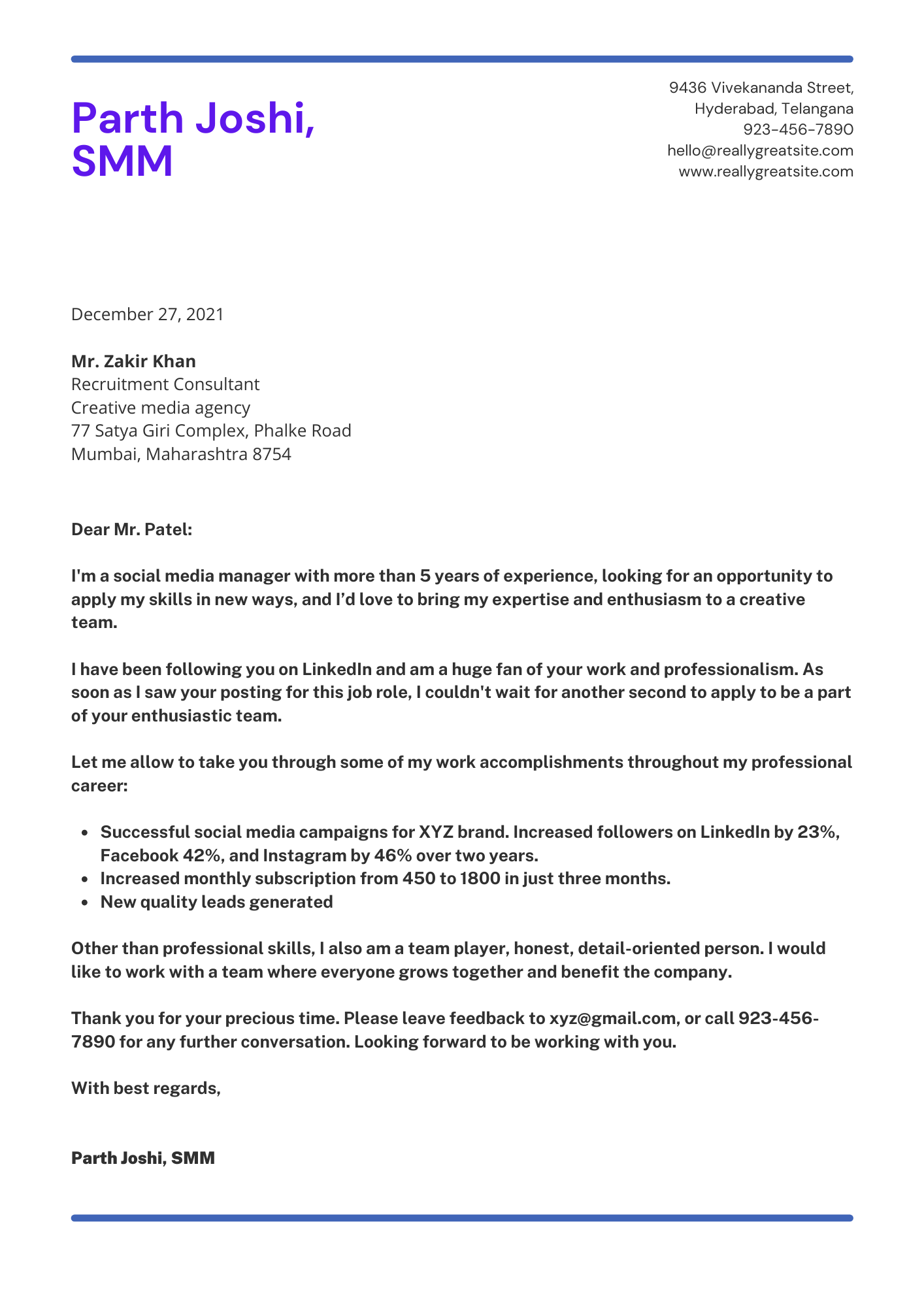 Start with warm greetings
'I'm applying for an X job that I saw in Y place.' is the blandest way to start any letter. No hiring manager would be interested in reading further. Instead, you can start with a strong opening sentence. Why this job is exciting to you and what you can bring to the table.
Look at this example, "I'm a social media professional with more than 5 years of experience looking for an opportunity to apply my skills in new ways, and I'd love to bring my expertise and enthusiasm to your creative team." Then you can include a sentence or two about your background and your relevant experience.
You want to catch their attention and the best way to do it is by showing them your potential. But don't try to be funny or quirky in cover letters. You don't want to showcase your personality as a non-serious professional. Try to stay away from common platitudes, too. Say something dynamic and on-point, like 'Let me draw your attention to 3 reasons why I'd be a good choice for this role. You understand the point here, right? Simple and straightforward.
Keep it short and interesting
"The shorter the better". In one survey, more than two-thirds of employers said they preferred a cover letter that's around 250 words or so. Exceptions are always there when it comes to experience and industry-wise.
Add final words to the letter with "I look forward to hearing from you." But your closing paragraph is also your last chance to make a mark on the employer or hiring manager.
For example, you could say: "I'm really interested in [Company]'s mission and would love to bring my [add your "trendiest" skills here] to this position." You can also use the end of your letter to add important details that may help the recruiters—like the fact that you're willing to relocate for the job or comfortable working hours.
Proofread and edit
After finishing with the letter, set it aside for a day or even a few hours, and then read through it again with fresh eyes—you'll probably notice some changes you want to make. Always remember, one spelling or grammar mistake can be all it takes to turn off the hiring manager. The best option is to ask a friend or family member to give it a look. Ask them these two questions: Does this letter sell me as the best person for the job? and Does the cover letter get you excited? If the answer to either is "no," or even slight hesitation, go back to your edit mode. And if you need some extra help, you can get your cover letter assessed by industry experts.
We hope these tips help you in creating your first cover letter according to the job description. Follow career advice on InspiredResume.com for more information on resume writing, interviews, and expert opinions.