"Anyone can make something complex; it takes a genius to make something simple". – Pete Seeger - Product Director at Docusign.
Product development is complex, full of uncertainties and a quick decision-making process. The role of person involved in Product management should be able to look at the most complex requirements and develop strategies and simplify them enough to be able to execute them effectively and efficiently.
So someone who wants to make a career shift to product management will need the above-mentioned skills. And if you think you possess those skills, put all your past experiences into a product manager resume and start applying.
No matter what your previous experience or role was, anyone can become a product manager if he/she was involved in any aspects of product development.
Hence, in this guide, we will help you build your first product manager resume - who has just started their career in this role.
Associate Product Manager Resume
Entry-level project managers steal deals for recruiters. They are just starting off their role and can grow into future company leaders. An associate product manager is responsible for collecting product data, doing customer research, coordinating with stakeholders, and developing new product features. They can work with one or more product managers and enabling them to do their work more effectively.
But before jotting down your resume, follow these tips to gather content from your past experiences.
Tips for developing content
Numbers are universal. If you want to create an impact in the mind of the recruiters, add numbers like 'Driving 1Cr of incremental revenue or 100K new monthly active users'- to make it easy and quick to understand.

Be the catalyst. Write in terms of what you've precisely accomplished, personally.

A one-page resume is fine. Unless you have additional freelance projects to mention, which can take up to two pages. Take the time to be concise so every word adds value.

Unconventional experience also works. If you were involved in an open-source project, then explain its experience as well. If you run online ads for your neighbour's small business, show its value. Passion projects are one of the highest ROI investments an aspiring associate PM can pursue.

Build honesty and credibility. Showing how a seemingly-unrelated experience can be applied to a PM role can be a game-changing story.
Now build an exceptional Product Manager Resume
A summary highlighting core abilities
Your opening summary is your chance to shine and set yourself apart from the other candidates. It's the first thing that the recruiters will read, so you need to make sure it's engaging and captures their attention immediately. In order to do this for the role of Associate Product Manager, focus on your ability to collaborate with cross-functional teams.
Highlight examples of your work ethic and experience in building and launching different types of products. This will give them a better sense of who you are as a candidate and whether or not you're a good fit for the role.
Following is an excellent example to refer to while writing the summary section on your resume for Associate Product Manager:
"Experienced in launching and promoting dental products and Continuing Education programs which includes coordination with the production team for product build and course filling. Maintained and scheduled 15+ marketing materials required for upcoming events or product launches."
---
Also read: Resignation letter format
---
Add a subsequent skill section to your Associate Product Manager Resume
Your skills section helps in expanding your opening summary. Highlighting your core skill set can make you a viable candidate for the employer. Always have a look at the job description first and choose the key skills accordingly. This will make your profile seem more relevant and multiply your chances of getting hired.
The following are some essential skills to possess as an Associate Product Manager:
Data Analyzing

Market Research

Product Marketing

Product Development

Knowledge of Web Content

Interpersonal Skills
Highlight your work experience to showcase your product development gigs
Your work experience should be a great demonstration of your skills in action. You should have concise listings that break down your experience and show what you're capable of. Use action-oriented statements to create a powerful impact and showcase your level of authority, responsibilities, and accomplishments. Educational qualifications, certifications, and achievements are also critical to list here. They show your willingness to learn and adaptability, both of which are great qualities in an employee. List all your relevant degree or course names along with the year of passing. Do not forget to mention the achievements that make you proud.
Also, adding some certifications related to PM is a great choice. For example;
Become a Product Manager - upGrad

Certified Product manager - productleadership
Associate Product Manager Samples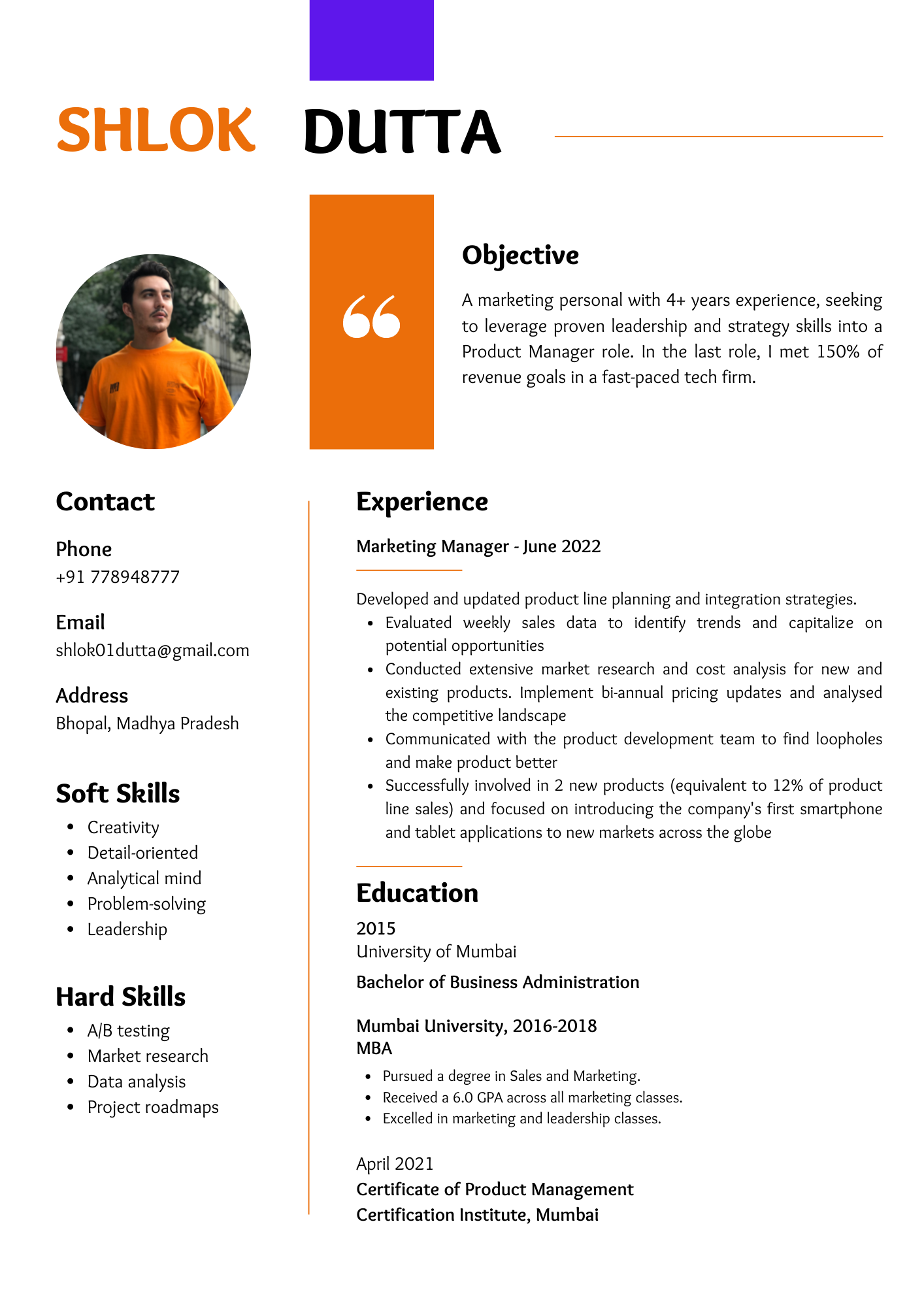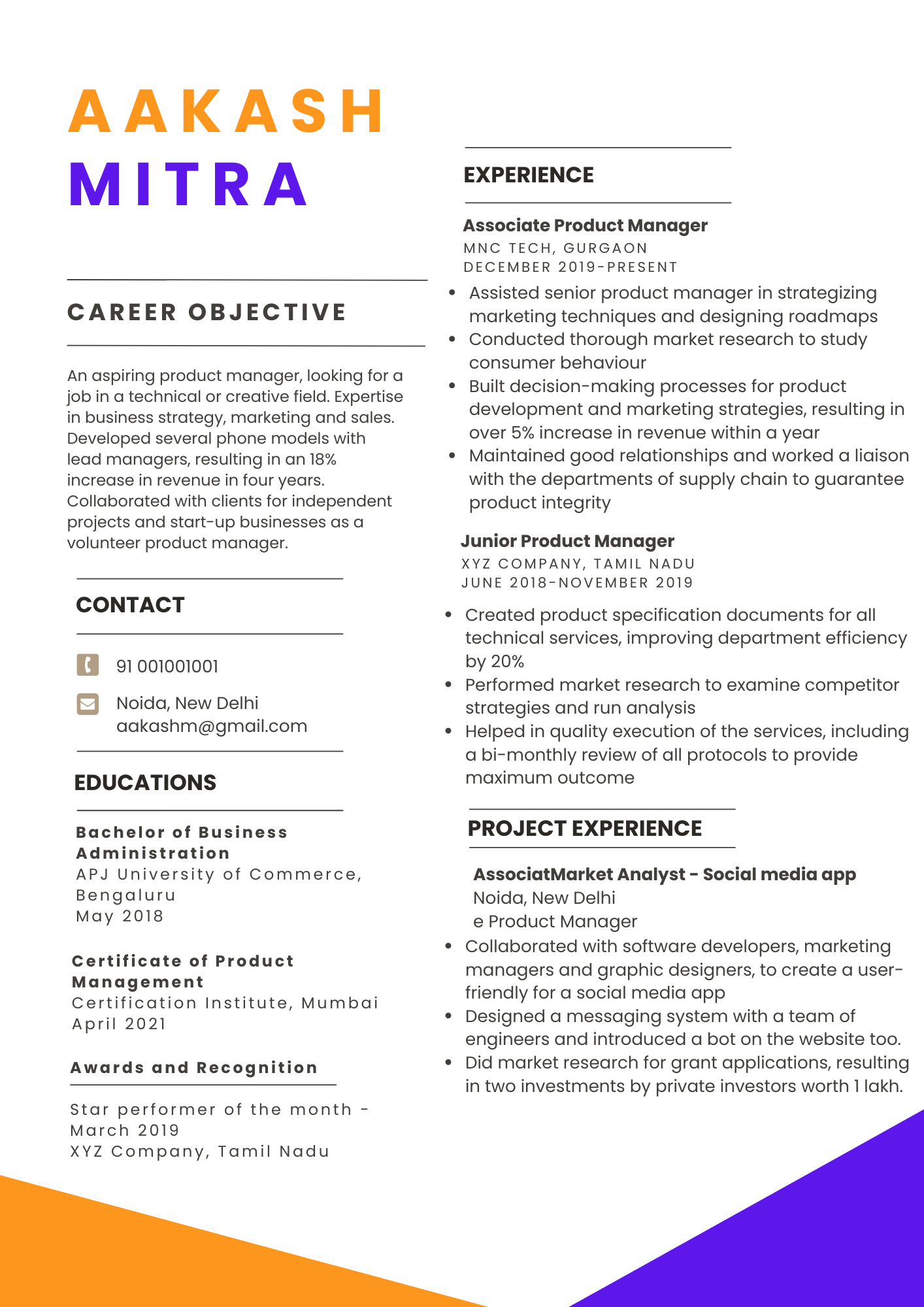 ---
Get expert feedback
The next step after writing a resume is to validate it with other PM or industry experts. The only thing that can give you confidence about the content is the assessment.
Upload your resume on InspiredResume.com and get a detailed assessment of your resume in a personalized mail for FREE. Improve your resume with the feedback received and start your journey as a product manager soon.