Resigning from a job can be quite overwhelming. That's why it's important to make sure that you've done everything necessary before doing so. Consult with your immediate supervisor or the human resources manager first in order to finish up any processes the company has in place regarding resignations and such. One example would be to request specific information such as when you think is the best time for you to leave and if they happen to have any work that needs to get done by you specifically and lot leave any project half done.
Then comes the part of submitting a resignation letter. A resignation letter is an official document that records the end of your employment with an organization. This often comes after you've indicated your decision to leave in person or via email. But even the exit has to be as professional as the onboarding. Below are some points to remember for an accurate resignation letter format:
Statement of resignation from the company

Date of last day of work

Statement of gratitude

Next steps or important information

Signature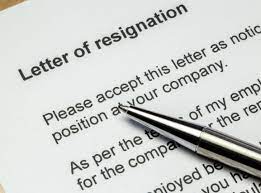 Tips for writing a resignation letter
Keep your parting message positive: Regardless of the reasons you're resigning, strive to maintain a good relationship with your manager and professional network. Above all, do not use your resignation letter to vent frustration.

Resignation notice: A Resignation Notice is a requirement if the employee leaves their job. The resignation must include certain standard information, but the notice may also include additional material that the employee would like to add. If an employer does not wish to accept a resignation announcement, this has to be communicated within 7 days of delivery of the announcement.

Follow instructions from your manager: After you submit a formal resignation letter, your manager might ask you to complete the required paperwork and make other preparations before quitting.
Resigning a position is never easy, but well-crafted resignation letters can prove to be incredibly useful. A well-written resignation letter provides a career launching pad for the future and helps employees maintain solid relationships with employers that they once worked closely with regularly.
---
Want an expert feedback on your resume, absolutely free of cost? Get it here.
---
Here is a sample resignation letter with proper formatting and anyone can customize it as per their needs
Dear Mr/Ms [your senior's last name],
I am submitting my formal resignation from XYZ Company. My last day will be two weeks from today, [add last working day]. I'm grateful to have been given the opportunity to gain new skills, an experience which I am sure will help me immensely in my professional career. It was an absolute pleasure working with you and the rest of the team; thank you so much for being such a great company to work with!
If there's anything I can do to make this transition as seamless as possible for you, please let me know.
Best wishes and regards
[insert your name]
OR
I'm writing to give my notice that I will be leaving my position as Office Manager at MNC Partners on December 31st.
I recently received an opportunity to be an executive assistant for a startup company, and it's extremely exciting.
I am grateful to have been given the opportunity to work in the operations team for the past four years. When I started out, it wasn't easy with all the hours, different shifts, and responsibilities - but eventually, I was able to figure everything out, thanks to my seniors who were incredibly supportive along the way. Eventually, they entrusted me to go off on my own which was both scary yet exciting because now I get to develop myself as an employee.
Please let me know if I can be of any assistance during this transition. Thank you for all your guidance. Looking forward to keeping in touch.
Best wishes
[insert your name]
A resignation letter provides an opportunity to express your gratitude and wishes for the company. It's also a great way to leave on good terms, which will allow you to rejoin the team at some point if the opportunity presents itself. If you want to add something personal or change the formality of your letter, check out these ideas for optimizing your resignation letter:
Include your personal email and make sure that you note your availability. Let them know if you're leaving for another position, or because you are changing jobs, transitioning from one project to another, moving back home to care for relatives or children, and would like to keep open the possibility of working with them again in the future.
For more tips and career advice on resume writing, interviews, or job hunting, follow InspiredResume.com.