The content writing industry is flourishing in today's time. Several industries and departments require the services of the content industry to market and educate their product and services. Those who want to make a career in this growing industry, have to level up their skills and stay connected with the ever-changing trends. To create an amazing content writing resume, several things need to be kept in mind. Keep reading this article to impress the hiring manager with a compelling resume for content writers.
Categories of content writing jobs:
Content writing jobs can be divided into different categories as per the requirements. Some of them are:
SEO writing: SEO is a skill that can take your content into places with the help of search engines. Learning SEO could land you various job opportunities. SEO content writing has its own sets of difficulties but once you master the skill, success is guaranteed, as the quest for organic traffic will always remain. All in all, it can be said that it needs good technical, analytical, and keyword knowledge.
Web writing or blogging: A career in content writing as a blogger requires some unique ideas, thorough research & writing, and SEO skills in order to sustain itself in the market. Most writers start their careers with blogging and explore various options. There is an abundance of websites that look for bloggers/writers who can write 1-2 articles a day for their websites.
Social media posts: Social media writing is the most fun, as it requires a person to be creative and engaging. To write well for social media captions, product descriptions, etc you require an understanding of online spaces. These days almost all businesses have at least one social media presence on major platforms like LinkedIn, Instagram, Facebook, and Twitter.
Copywriting: Copywriting comprises writing about ads, sales collateral, and product descriptions, and focusing on traditional print media. This type of writing is done to create a brand identity and is usually the first thing that a customer reads. Keeping that in mind, research and brand knowledge are optimum while getting into copywriting.
Now, let's focus on creating a perfect resume for content writers. Follow the points mentioned in the article carefully.
Compelling resume summary
A resume starts off with a headline. After that, a resume section or resume summary sums up the details you want to attain in that job position. In just a couple of sentences, make your mark as the perfect candidate for the role. But if you're a fresher and starting a new journey in this creative industry, you can write a resume objective and tell a story of being a professional person.
Work experience
A resume for a content writer must include a wide-ranging of industry-related technical keywords and slang. Work experience is one of the necessary sections of a resume. How you frame it in your resume decides your chances of getting noticed by the hiring manager. Yes, you might be good with words but recruiters want to see numbers as a result of work. It's better to measure the performance of your work to make the experience section quantitative.
Also, It will be best to include published work, research work, or any freelance gig you did for a client. Don't forget to add links to the most relevant work in the document. Keep your publications into diverse categories based on the type of content writing, such as, blogs, articles, B2B writing, Whitepapers, Social media content, etc.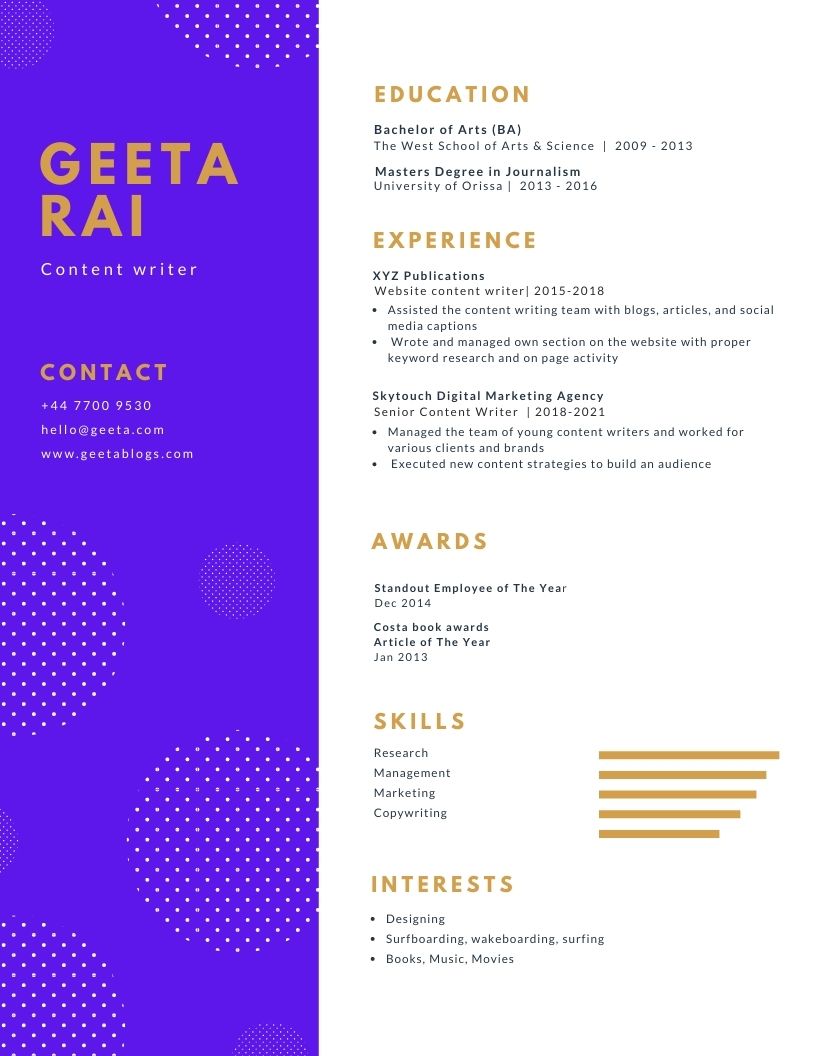 Skills section for content writers
The requirements for a content writer may vary from company to company. You need to go through the skills that are matching to your job role. The job description mentioned by the employer lays down the skills and responsibilities that the recruiter is searching for in an ideal candidate. Analyze the job post carefully and then update your skill section accordingly. Here are the top nine skills for content writers that one can mention:
Adaptability

Research

Authenticity

Time management

Communication

Editing

Knowledge of social media

Technical

Search engine optimization (SEO)
Proofreading and assessment
Most employers can detect errors in resumes, but as a content writer, it is a kind of mandate to submit an error-free resume. Your resume is basically going to act as your first sample. Thoroughly review your resume to make sure of accuracy and reliability, and ask your friends, and coworkers, to re-check to make sure it's perfect. In case of doubt, it is always better to get expert advice. And why miss this opportunity for free? Upload your resume with InspiredResume.com and get a free resume assessment from experts on the same day. With the help of the feedback, correct and edit your resume before submitting it to the job application.